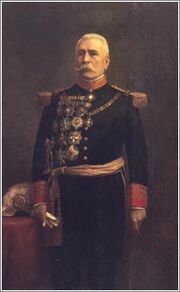 Early political fame
Porfirio Diaz gained notoriety in Mexico as a military leader against the French occupation. He helped his future political advirsary Benito Juarez defeat the French occupation and restore his presidency. After years of loyalty to Juarez, in 1871 Diaz led a revolution against Juarez's presidency. Finally he appointed himself president in 1876 and served only one term. During this time his son had created an effective political machine that would help Diaz in his future political career.
Diaz's 40 year presidency
After a term of the presidency that was marked by inefficiency and corruption Diaz stepped up as a Presidential canidate again in 1884. His presidency quickly snuffed out any political opposition with a strategy known as "pan o palo" (bread or stick). Offering political opponents positions in his government or beatings. He was then able to repeal re-election laws to non-existent levels. Diaz is often criticised for belittling the Indian population in Mexico by appropriating farms that were owned by the Indians to his political allies. His presidency was often defined as a liberal regime but it involved contradictions like the support of the church
Collapse of regime
In March of 1908 Diaz held an interview with James Creelman of Pearson's Magazine. Diaz may have expected his interview to be read by a predominantly American audience as opposed to the Mexican audience that read it as he comments on his willingness to accept political opposition in Mexico even though there had not been opposition in almost forty years. Regardless the interview is often marked as the beginning of the end of Diaz's regime. Political unrest had grown because of the way the Indian populations in the north had been treated as well as running for re-election in 1910. Almost two years later Diaz had been forced from the country by Fransisco (Pancho) VIlla and Emiliano Zapata.
Ad blocker interference detected!
Wikia is a free-to-use site that makes money from advertising. We have a modified experience for viewers using ad blockers

Wikia is not accessible if you've made further modifications. Remove the custom ad blocker rule(s) and the page will load as expected.