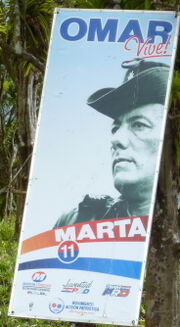 Omar Vive
Edit
Omar Efrain Torrijos Herrera was the de facto military dictator of Panama from 1968 until 1981. His leadership style has been variously described and is perhaps best characterized by the term caudillo. He practiced a form of "direct democracy" (Greene 1984) catering to individual struggles of campesinos, without necessarily remedying the underlying causal problem.
Death and Legacy
Edit
Torrijos died in a plane crash near Cerro Santa Marta in the Coclé province of Panama while on his way from Penonomé to his retreat in Coclecito. He was succeeded by Manuel Noriega (see "Corruption in Government" and "Operation Just Cause" sections).
Torrijos is remembered by many campesinos as a reformist who made positive changes for the rural disadvantaged. Specifically, near the crash site in the town of Santa Marta, some believe that Torrijos still lives (physically or metaphysically) in the national park that bears his name, protecting it and the people of Panama.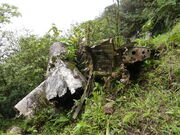 Ad blocker interference detected!
Wikia is a free-to-use site that makes money from advertising. We have a modified experience for viewers using ad blockers

Wikia is not accessible if you've made further modifications. Remove the custom ad blocker rule(s) and the page will load as expected.