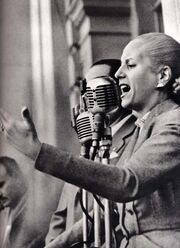 Eva Duarte was born in 1919 in rural Argentina. Her family was the illegitimate family of her father, Juan Duarte. When Eva was only five years old, her father returned to his legitimate family leaving Eva, her four siblings and her mother in poverty. Tired of living with almost nothing, Eva moved to Buenos Aires to pursue her dream of becoming an actress. At first, Eva lived in run-down places and only found work playing minimal parts on radio shows. However, after years of love affairs with famous actors and producers, Eva finally got a job at the radio station Radio Belgrana. It was while working there that she met her future husband Juan Perón at a benefit in 1944.
In 1946, Perón was elected president of Argentina with the help of Eva. With her radio experience, she was able to hold the attention of those who would listen. When Eva spoke, she spoke with the voice of a leader, a leader that the people of Argentina could relate to. Because of this, Eva bridged the gap between the common people and power and in a sense, helped unify Argentina. She brought together the lower class peoples, the descamisados.
Unlike others before her, Eva acknowledged the existence of poverty and victimization of the poor. This won her the adoration of the descamisados and the name Evita. In 1948, Evita established the Eva Perón Foundation. This foundation employed 14,000 workers, built 12 hospitals and helped support the construction of affordable housing throughout the country. To the descamisados, Evita was a saint. She saved them from years of oppression and gave them a voice.
Throughout Latin American history, a fight for the rights of those at the bottom of the socioeconomic pyramid is a reoccurring deal. This can be seen anywhere between Túpac Amaru's rebellion in the 18th century to today with leaders like Evo Morales and Hugo Chavez looking to improve the lives of the poor. Evita was so successful in unifying and helping the poor, but she must also be credited for her huge impact on Latin America as a woman. Not only did Evita give a voice to the poor, but also to women. Since Evita's death in 1952, women have risen to positions of power in Latin America such as Dilma Rousseff, current President of Brazil.
Ad blocker interference detected!
Wikia is a free-to-use site that makes money from advertising. We have a modified experience for viewers using ad blockers

Wikia is not accessible if you've made further modifications. Remove the custom ad blocker rule(s) and the page will load as expected.