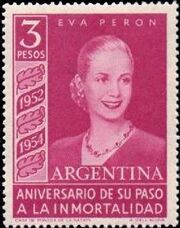 The last century in Argentina has been extremely tumultuous. Coup after coup has resulted in periods of violence and infractions on civil liberties. Despite all the violence and upset in the government two separate events stand out as evidence that good things can come out of difficult times: Eva Peron's time as first lady and the success of a group of uneducated housewives in protesting government actions. The remarkable thing about both of these events is that they used the social confinements placed upon their gender to obtain their goals.

Eva Duarte Peron, commonly called Evita, was the wife of Juan Peron and a major political figure in Argentina from the 1940s until her death in 1952. She implemented a marianismo persona in order to gain support for herself and her husband. She was able to get away with being one of the first outspoken and public first ladies by using Marian symbolism[1] in her speeches and causes and by adopting a mothering role toward the people of Argentina, especially the working class. She is a controversial figure in Argentina due to her contributions to her husband's political career. Juan Peron would not have had the popular support which he did without Evita's involvement in his campaigns and government. To some she should be canonized and to others she was little more than a seductress whose success could be chalked up to her manipulation of men. Her success as a politically active woman in the public sphere that accrued a following can be accredited to her manipulation of marianismo or her attachment to Juan Peron.
Some argue that Evita Peron used Marian symbolism to create a resonance with the Argentinean people. Evita's use of these symbols gave rise to her political power and her charisma was the reason for the highly positive responses from the masses.[2] Another school of thought is from the feminist's perspective; that Evita's popularity was not due to her use of Marian symbolism but her work for the working class, condemnation of feminists, and advocacy of the continuance of gender roles.[3]
Over twenty years after Evita Peron died the Madres de la Plaza de Mayo stepped outside the traditional domestic sphere and into the political realm. The Madres led protests demanding to know the whereabouts of their children by walking around the Plaza de Mayo, which is located in front of the presidential palace in the capital city of Buenos Aires. These women had lost their children through a period of state sponsored violence targeted at left-wing activists by systematically kidnapping and murdering them, commonly known as the Dirty War which lasted from 1976 till 1983 in Argentina.
The Madres de la Plaza de Mayo leave many scholars asking how a group of women could lead a weekly demonstration in the middle of the Plaza de Mayo during such a violent and dangerous government and not only survive, but succeed. Two opposing arguments about the Madres' success are that they were operating within their traditional role, motherhood and, conversely, that they were openly stepping out of their realm and rebelling against an unjust government.

Instead of fighting the system and accosting the senses of traditionalists with ideas of breaking gender roles, Evita Peron used marianismo to gain support. Her advocacy of the traditional role of women in Argentinean society was what made her able to become a prominent political figure and advocate for the working class. Even though Evita stressed the traditional role of women in her speeches, her actions showed Argentine women that they could accomplish political goals. By showing the nation that a woman could be in the public sphere in traditionally feminine ways, Evita made it possible for a group of mothers to join together and demonstrate in front of the Plaza de Mayo without being silenced by the government twenty years later.

Evita's involvement in the government prepared the country for women to take a larger role in their government through women's suffrage. The growing role of women in politics allowed the Madres' ability to publicize their cause while at the same time Evita's denial of the feminist movement and strong belief in the domesticity of women influenced the Madres and the public's interpretation of both Evita and the Madres.

Evita and the Madres were both slandered by those opposing them. Evita's illegitimate birth and sexual history made her used to attack the Peronist party by opponents. The Madres were called locas (madwomen) by the junta to try to discredit their cause.[4] Despite this, Evita had a huge following of descamisados who viewed her as their spiritual mother and the Madres found that Argentina and the world were empathetic to their plight.
---
[1] The use of symbols that resemble those of the Virgin Mary.
[2] Linda B. Hall, Mary, Mother and Warrior: The Virgin in Spain and the Americas (Austin: University of Texas Press, 2004) 208.
[3] Marifran Carlson, Feminismo: the Womens Movement in Argentina from its beginnings to Eva Perón (Chicago, IL: Academy Chicago Publishers, 1988) 183 – 197.

[4] Diana Taylor, Disappearing Acts (Durham and London: Duke University Press, 1997), 187
All items (1)